Hey Guys,
My name is Nem and here is my 300ZX.
Bought the car back in 2009 as a NON TURBO with a 2.5" Custom catback, UDP, Pod & standard clutch. Was a very nice looking car, atleast to me, and the motor was in perfect nick so i decided to buy it.
From when i first bought it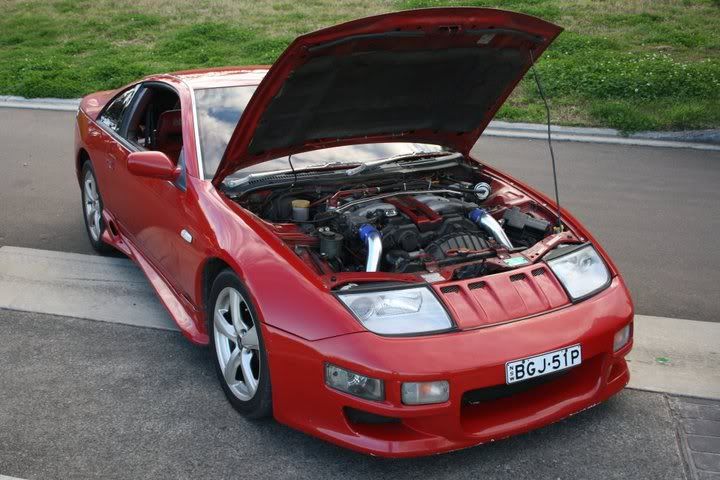 Not long after i bought it did i have my first go at the dragstrip, here are some photo's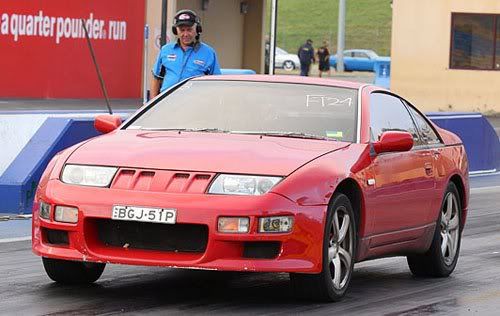 After 5 runs the best i could come up with was a pathetic 15.017 @ 97.22MPH . My clutch was slipping on anything more then a 2500rpm launch so i had to take off really easy.
About 5 months after that my clutch decided to call it quits, held up well for a stock clutch IMO. After looking for hours i decided on my new clutch, a "Gripforce F1" racing Stage 3 Button Clutch. Oh boy did this take some getting use to for the first day, soon as i picked up the car i got stuck in peakhour traffic! At the drags was chirping 3rd gear at 100KPH
A good 1500k's had passed and the clutch had been well worn in i decided to have another crack at the drags, i HAD to get that 14 second pass!
Decided i would take it easy on my first run so i wouldn't stuff up, managed a 14.847 @ 95MPH first try! :happy: What was even funnier was that i had tried to select 4th but had trouble so i let off a bit before the finish line. Ok Second run, was really excited to see what i could get, time to see what it was capable of
Not a bad time for a factory non turbo 300ZX, especially considering it trapped 95-97MPH pretty consistently! My next planned mod was to throw on a set of drag radials and try for a low 14 second pass, it had the MPH but i never had the money unfortunately.
FAST FORWARD about two years and i have bought two other 300ZX for wrecking, one of which was a Twin turbo so i decided the engine would look better in my car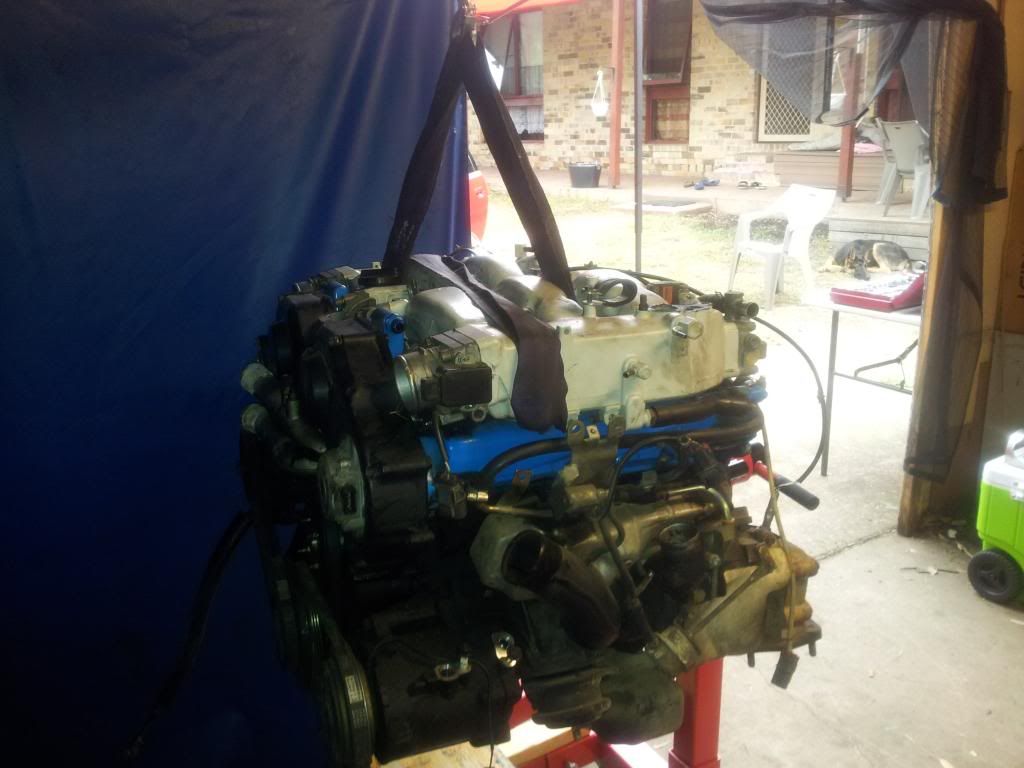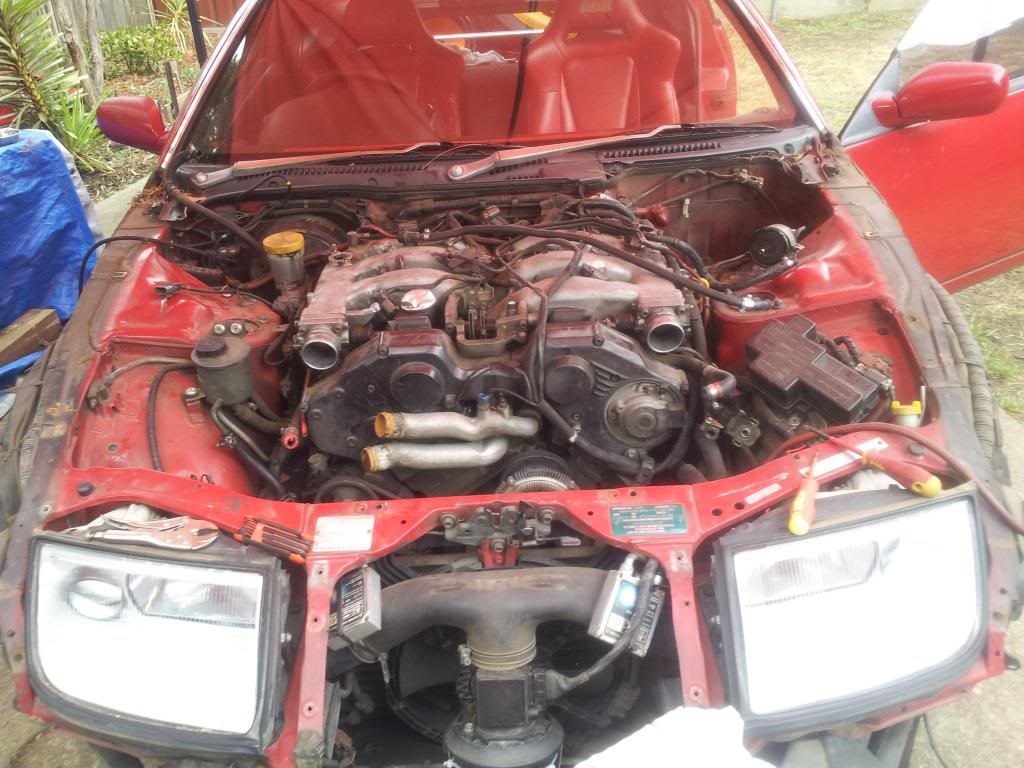 Spent HEAPS on preventative maintenance
Then took the engine to a good friend of mine for him to complete the work as i had no time.
What i had done was:
New Timing Belt
New Idlers + Tensioners
New Seals all round
ALL new gaskets - except headgaskets
New Water Pump
New Oil Pump
ACL Race Bearings - Mains and rods
New Sump
OEM Manual Turbos Fitted
EGR Deleted
Flywheel Machined
SPEEDI crank sleeve
Compression tested between 148-156 on all cylinders.
Then some other bits and bobs, look at these FULL 2.5" turbo inlets compared to the factory ones!... the factory ones cap out at 585cfm while the larger ones flow 900+cfm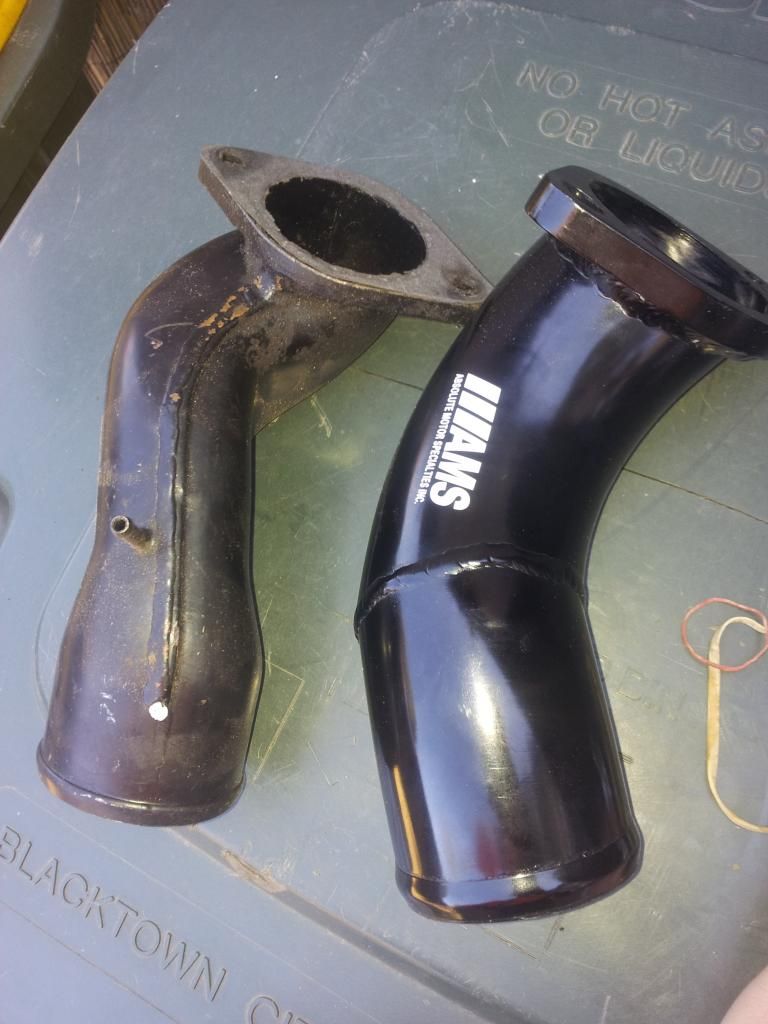 Bit of a tight fit.
Ended up calling a few friends over, one thing lead to another
So fast forward another two months and the car is running, registered and being driven regularly. I also managed to win a bid on a Z32 at auction that was owned by a friend of mine about a year before being auctioned off. This car has a forged motor with GT28RS turbos making 480rwhp..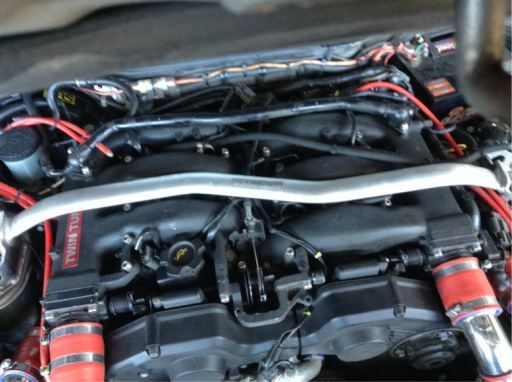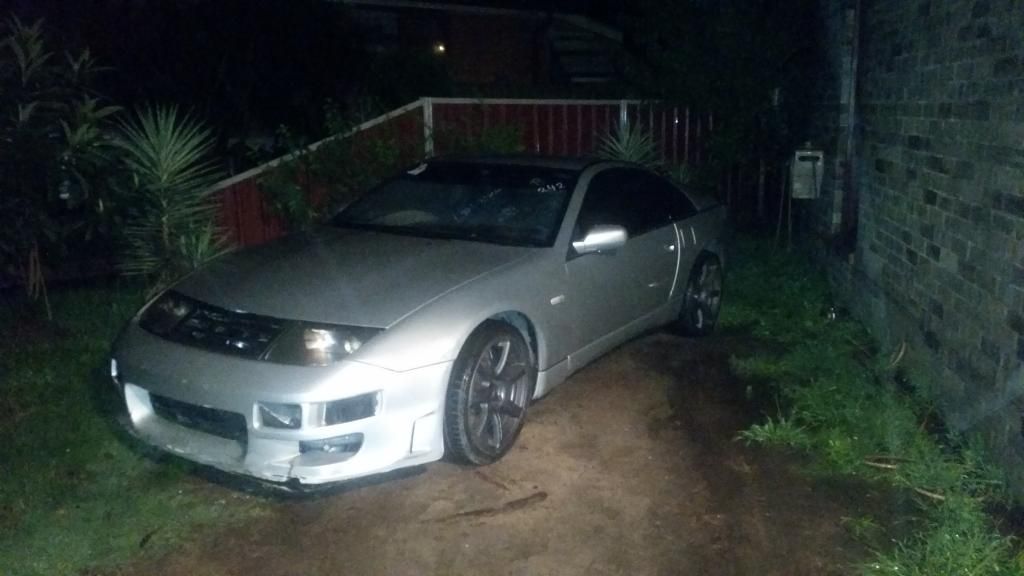 I DID have plans to restore it but it ended up too far gone and the motor was cactus, both headgaskets blew and the bottom end bearings were shot. So plans went back to modify my red Z32. Funny thing is though, this car came with HEAPS of goodies on it.
A forged motor, in need of a rebuild but a good start
Nismo 555cc Injectors
Custom made exhaust
Work XT7 Rims
324mm Brakes with custom adaptors
Oil cooler
Turbosmart Eboost2
Turbosmart FPR
etc
In the end i sold off a large amount of parts, kept the motor, rims, brakes, suspension and EBC for my own car. All in all i made back what i paid for the car and the rest of the parts i kept for my own. Basically thousands in parts for free.
18x9.5 with 295/30R18 Hankook EVo1's
Threw in the Turbosmart FPR, upped the fuel pressure and upped the boost to 16PSI
but for some reason the car seemed extremely slow on low boost and not as quick as it should be on high boost. So after looking around it seemed the factory ECU in the car didn't like the mods and boost level on the car and was dropping power HEAVILY in the 5500+RPM range and my CAS was set to 10 degree's instead of 15.... In the logs the car was upto 11 degree's retarded in some area's.
The car was so off that it ended up LOSING to a honda S2000 on a rolling start and i was ready to burn it. In the end i used a spare Japanese Chipped ECU that ran more aggressive timing and no boost/fuel cut and the car livened up REAL QUICK. It ended up being able to overwhelm the massive 295's in 2nd gear on high boost. Unfortunately the clutch gave up and i had to go out and order a new one.
It is a Competition Stage 3 Brass Button clutch
This thing gripped VERY well and then not long after some MORE goodies arrived
NISTUNE ECU with feature pack update
GM Flex fuel sensor
BDE Top Feed Fuel Raisl
Bosch 1000cc E85 Injectors with plugs
So work started on my car for the switch to E85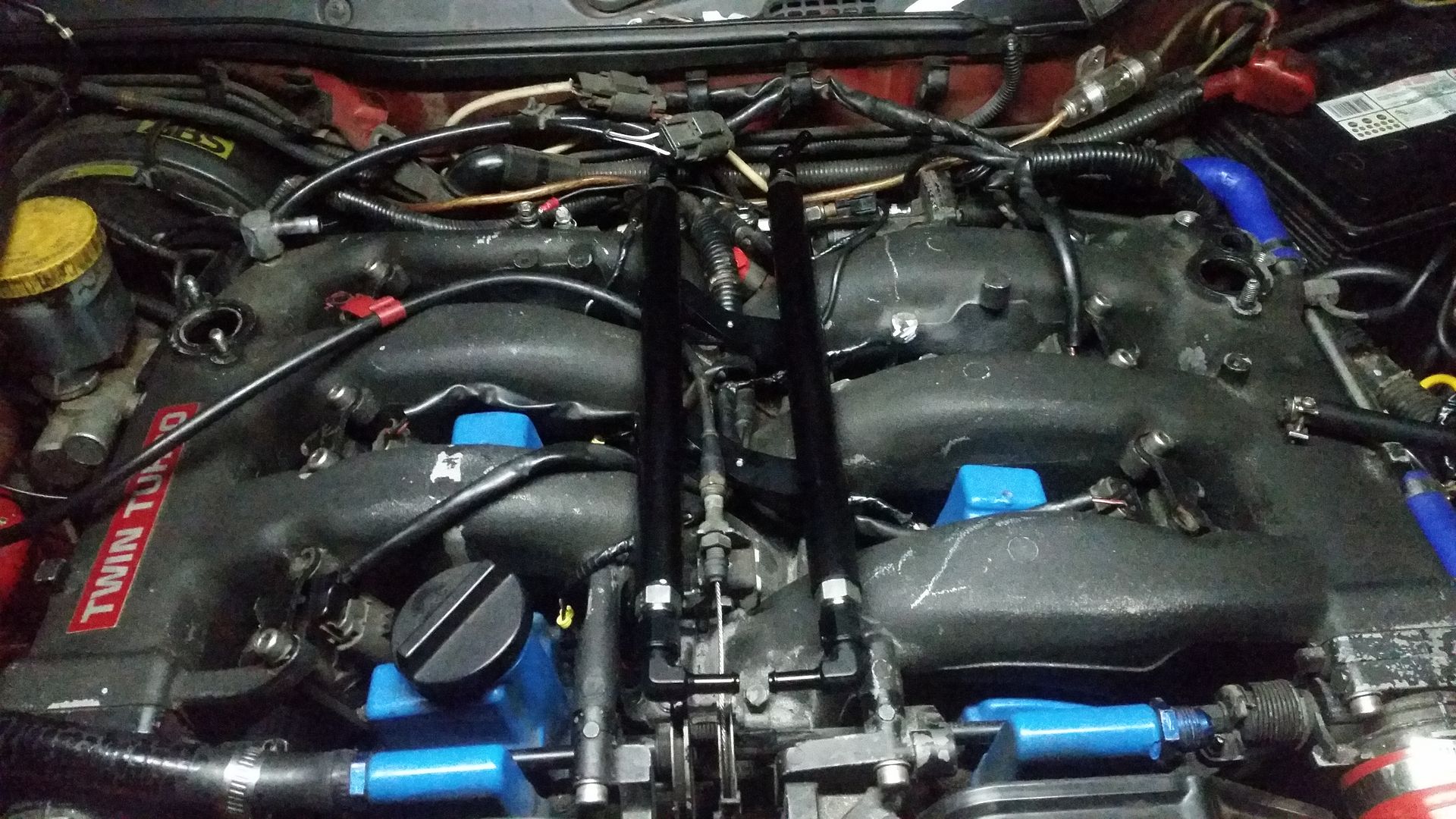 Then this happened....
I was always interested in tuning and after doing loads and loads of reading and making small adjustments to this car i decided to give it a full remap on the road, all on my own.
I ended up giving it a fairly safe timing map(17* up top) and 11.5AFR still on 98 Octane fuel, the car logged 45% Injector duty cycle and 4.7v AFM voltage....However after a few weeks i got bored of the power AGAIN and decided to give it a retune on E85, what a difference! Getting the boost upto 21PSI we logged injector duty cycle at 69%. It was great fun but now completely useless on the street, with full boost at ~3500RPM it would spin 2nd gear and HALF THROTTLE
The car is faster on 12PSI and E85 than 17PSI on 98 octane!
So with the car going like a cut snake i decided to see what it could do on the drag strip, with some Mickey Thompson ET street 255/60R15 tyres
Although it didnt go to plan
the car broke BOTH half shafts on my first attempt, seems the factory Z32 NA LSD has weak half shafts and any decent power and grip means they will snap like twigs. So after ages of looking i managed to source an R32 GTR 4.11 LSD which i will be matching with Z32 TT half shafts(guys do wheelies on them!) to help strengthen up the rear end. I am still waiting for the LSD to arrive and have placed my order for a WON SB150i2 Nitrous Kit
I am hoping that the next time i go to the drag strip that i can reel off a 10.99 or better.
Also a quick shout out to Trevor, who has been so helpful i didn't think it was possible for one person to care so much about his customers and offer so much help! I'd choose WON just for the CUSTOMER SERVICE!
Current Mods to the car:
Twin 2.5" Catback Exhaust
Twin 2.5" Front Pipes
Highflow Cats
Factory Dump Pipes
Auto Inlet cams(less duration, slightly better low end)
Manual Turbos(larger exh. housing than auto ones)
Selin Dual Maf - Dual Intake
BDE Fuel Rails
Bosch 1000cc Injectors
Nistune ecu - Tuned by me
flex fuel sensor
Eboost2
NA Z32 LSD 4.08 - Broken Axles
Mickey Thompson ET Street 255/60-15
21PSI and E85.
Next stage is:
WON SB150i2 Nitrous Kit
Walbro 485 E85 Fuel Pump
R32 GTR 4.11 LSD w/ Z32 TT Half shafts.
My end goal is to rebuild the spare engine from the silver car with:
GTX2867 Turbos
JUN 264/9.5mm camshafts
3" Split Dump Pipes and Exhaust
2.5" Intercooler and Inlet Piping
TH400
Direct Port Kit from WON
When thats done i'd be hoping to be in the 9 second range